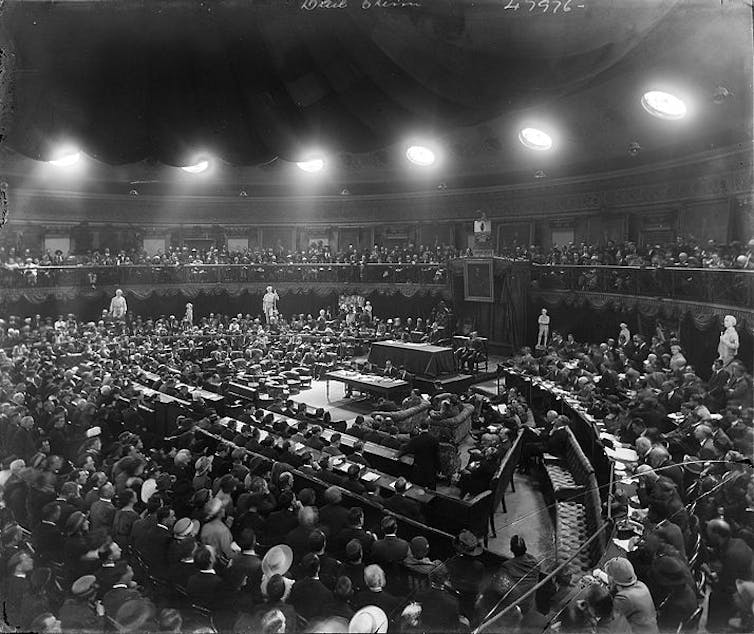 Darragh Gannon, Queen's University Belfast
A century ago, on January 25, 1919, delegates to the Paris Peace Conference formally agreed on the establishment of a League of Nations, US President Woodrow Wilson's attempt to create a new international order following the World War I.
Four days earlier, on January 21, Dáil Éireann, Ireland's national parliament, had met for the first time. Its assembly in Dublin's Mansion House was politically set to "Paris time". Proclaiming an Irish Republic, the revolutionary parliament issued a Declaration of Independence from British rule in French, Irish, and English. It also sent A Message to the Free Nations of the World, and delegates to the Paris peace conference. It read:
Ireland today reasserts her historic nationhood confidently before the new world emerging from the War.
Neither the Irish Republic, nor its representatives would be admitted at Versailles. But international recognition of the Irish Republic, under the principles of the "new world order" established in Paris – self-determination, liberal democracy and internationalist development – would become a key battle ground in the Irish war of independence. A century on, it remains a key battle ground of historical debate – where, in this "new world order", was the Irish Republic won and lost? Continue reading "January 1919: the Irish Republic, the League of Nations and a new world order" →